MSS Communications
(L-band Mobile Satellite Services)
Inmarsat FleetBroadband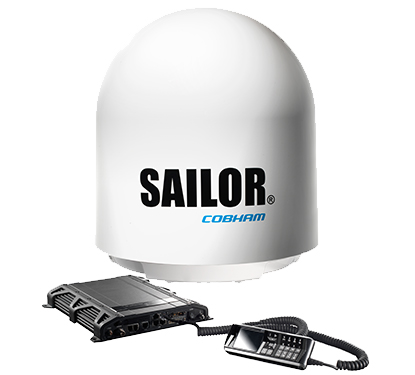 Inmarsat FleetBroadband provides cost-effective broadband data up to 432 Kbps and voice simultaneously through a compact antenna on a global level. Based on the BGAN network using 3G standards, FleetBroadband provides you with a seamless broadband connection utilizing Inmarsat's I-4 satellite constellation. With FleetBroadband you can access email, surf the web and run operational systems remotely, while our solutions enhance the service with cost-effective tools for your daily communication and administration needs.
Enjoy faster & more cost-effective data: You can access email, surf the web and run operational systems remotely at the same time as making phone calls.
Standard IP: up to 432 Kbps over a shared channel, for email, Internet & intranet access and remote maintenance
Streaming IP: guaranteed on-demand data rates of up to 256 Kbps for live video/audio applications and 8 kbps and 16 kbps for voice over IP (VoIP) applications
Voice: up to 9 simultaneous voice lines for bridge and crew communication
ISDN: supports ISDN at 64 Kbps for legacy applications
SMS: send and receive 160-character text messages
Coverage: available globally, except in polar regions
For detailed information, you can download the document here.
---
Iridium OpenPort
Essential L-band Voice & Data Up to 134 Kbps — Anywhere
Ideal for primary or VSAT companion communications, Iridium continues to deliver performance and value, supporting essential voice and data connections through Iridium OpenPort. For email, web browsing, social media, crew calls home to family and friends, or a back-up to your VSAT system the Iridium OpenPort broadband service gives you big ship communications capability on a small ship's budget.
Truly Global Coverage: Ideal for primary and VSAT companion communications anywhere in the world, including polar regions, harbors, and ports.
Weather Resilient Communications: Iridium's L-band connectivity performs even in adverse or harsh weather conditions.
Low Latency: Iridium's Low-Earth Orbit (LEO) satellites have shorter transmission paths than GEO networks, enabling faster voice and data connections to anywhere in the world.
Flexible Voice and Data Plans: Choose from a range of customizable voice and data plans allowing you to choose what best suits your needs and your budget—if you don't use a service, you don't pay for it.
For detailed information, you can download the document here.
---
Iridium Certus
Powered by the Iridium NEXT satellite constellation, Iridium Certus serves as a multi-service platform, providing uncompromising coverage. Low Earth Orbit (LEO) satellites combine with ultra-fast L-band to enable satellite communications anywhere in the world; even in the poorest of weather conditions. Its unique flexibility supports a wide range of voice, data and broadcast services, meeting the needs of today's connected ships and vehicles.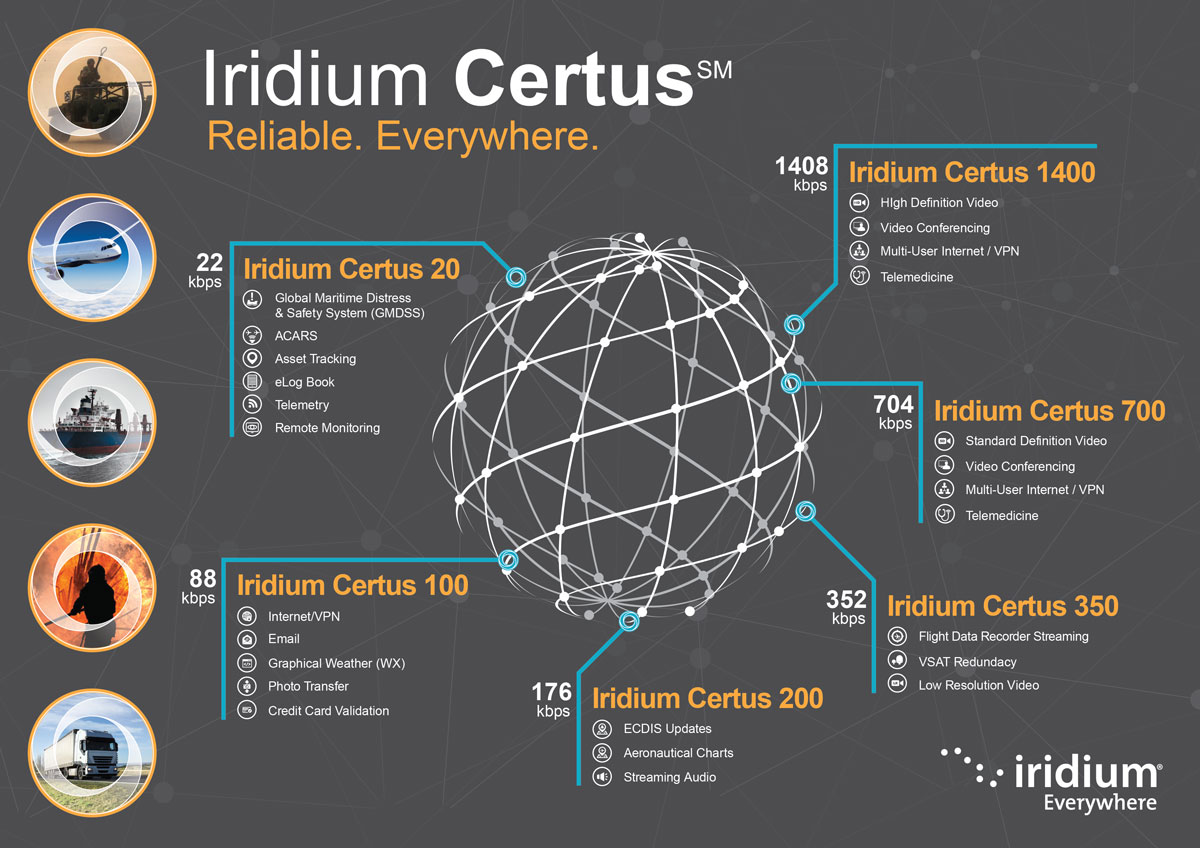 Global: the only mobile voice and data satellite communications network that spans the entire globe
Unique Low Earth Orbit: 66 Low Earth Orbit (LEO) satellites ensure excellent global satellite broadband with high-speed cross-links to every corner of the world
Speed: the high-speed service enables efficient business operations with speeds up to 704 Kbps
Multi-Service Platform: providing users with several options for seamless data, voice and safety services in just one terminal, keeping crew and corporate business connected at all times
Robust Equipment: operating seamlessly in even the remotest of locations and in all weather conditions
Lightweight hardware: with no moving parts, ensuring easyinstallation, low-maintenance and reliability
For detailed information, you can download the document here.